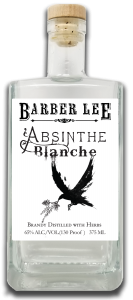 Absinthe Blanche
8 HERBS, TRIPLE DISTILLED CALIFORNIA WINE, 65%ABV
A good absinthe is a beautiful thing. Developed by monks as a medicine in ancient times, absinthe is a witch's brew of different herbs meant to harness the healing powers of the herb wormwood by disguising its flavors with a bunch of different herbs – traditionally fennel and anise seed. Mysterious, legendary, and unfairly illegal for decades, absinthe is a fantastic after dinner drink or a great way to start a night of fun.
We wanted our absinthe to be less mint driven from all the anise and more botanical. In California we have access to so many herbs and spices, so we decided to try out everything we thought would work. We distilled 17 different herbs and botanicals separately to discover their individual flavors before settling on 8 different herbs we blended in different ratios in a series of test batches. The base of the spirit is traditional for french absinthes – triple distilled wine. This spirit is delicate and delicious, a more sweet and floral expression.
Our absinthe is blanche – clear – because we do not soak the spirit with any herbs after it comes off the still. This keeps it more light and pristine. It is bottled off the still at 64% abv. Add cold water slowly until it changes color – and enjoy!