WE ARE A FAMILY RUN DISTILLERY DEDICATED TO THE ART OF DISTILLING
WE USE THE BEST HEIRLOOM CORN, MALTED GRAIN, AND ORGANIC HERBS TO MAKE OUR TRADITIONAL aND HAND CRAFTED SPIRITS
THIS IS OUR STORY
Booze And betrothed
Lorraine and Michael Barber are the winemaking and distilling team behind Barber Lee Spirits and Barber Cellars. They started their winery in 2007, focusing on single vineyard, organically grown grapes in Sonoma County. With a dedication to low intervention winemaking and the desire to make something unique, they continue to craft expressive and delicious wines.
Michael might be a wine obsessed California boy, but his family is from the south. A bottle of bourbon was just as common as a bottle of wine on their family's table, and the Barbers have a deep love for great spirits. They wanted to take their love of whiskey and apply the same ethos they use in the vineyards to make something wonderful…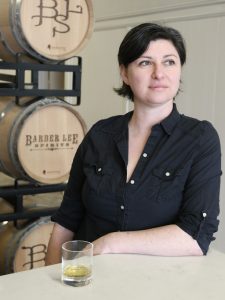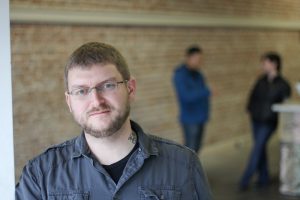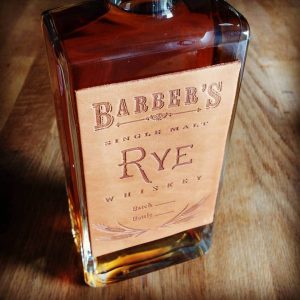 Many Lessons, One Legend
…That meant doing everything the hard way and learning from their mistakes to make something special. Inspired by a California rye renaissance, the Barbers knew they wanted to make an outstanding rye whiskey. While most ryes on the market pull from the vast barrel stocks of the same four distillers in Kentucky, Indiana, and Canada, many brands in California make their own rye whiskey from scratch – cooking their own grain mash and distilling and aging their product themselves. After a lot of research and several test batches, the Barbers developed their own mash bill and recipe for one of the most expressive, delicious, and unique ryes on the market and one of the only single malt ryes in america. They had to rely on friends in the industry to put it together – using the Barber's wine tanks and equipment at friend's breweries to make the mash, and then other friend's copper pot stills to distill it.
Their whiskey was 100% malted rye made painstakingly by hand. Through sweat, toil, trial, and error, Mike developed an entirely singular and backbreaking system of mashing, fermenting, and distilling the sticky and unworkable mess that is a malted rye mash. The result is a spirit that is a rich and spicy one-of-a-kind American whiskey experience. Their first whiskey was released in 2016 after two and a half years of aging, and sold out in a matter of weeks…
The man named lee
…Unfortunately, working around other alcohol makers' schedules did not allow the Barbers to make very much, and demand was high. Aaron Lee, an entrepreneur and San Francisco native, knew the Barbers from their wine. He had tasted their whiskey during the brief period it was available in their tasting room, and knew something special was happening. Aaron also had a love for great spirits, and was looking to start a legacy business for his family. He impressed the Barbers with his dedication to the craft and convinced them to take their spirits to the next level and build their own distillery.
Aaron joined in the sweat and toil of whiskey making. In 2017 the Barbers and Lees started their partnership and Barber Lee Spirits was formed: two families dedicated to the art of traditional distilling. After a long search for the perfect location, they established their distillery in an old, brick warehouse built in 1910 and opened their doors to the public in 2019. It was the first downtown distillery in Petaluma, the oldest city in Sonoma County and the historic heartland of the region.