Booze And Betrothed
Aaron Lee joined forces with Lorraine & Michael Barber (the husband and wife winemaking team of Barber Cellars) to form Barber Lee Spirits in 2017. They secured an old brick warehouse built in 1910 in downtown Petaluma (one of the last, old industrial buildings in the downtown area of this historic town in Sonoma County) and got to work installing their equipment and building out a tasting area. The doors were opened to the public in 2019 with their flagship single malt rye, moonshine, and absinthe available for tastings. In a few years they added heirloom corn bourbon, apple brandy, and rum to their spirit line up. Their spirits have since won numerous awards including Double Gold best in class from San Francisco World Spirits Competition and Double Gold best in class from Sunset Magazine Spirits Competition.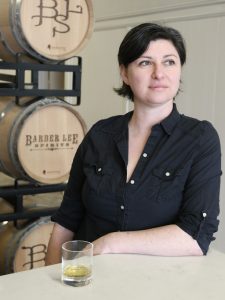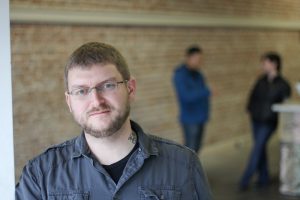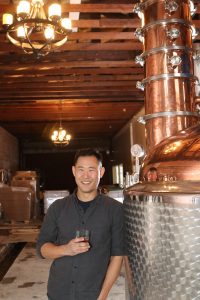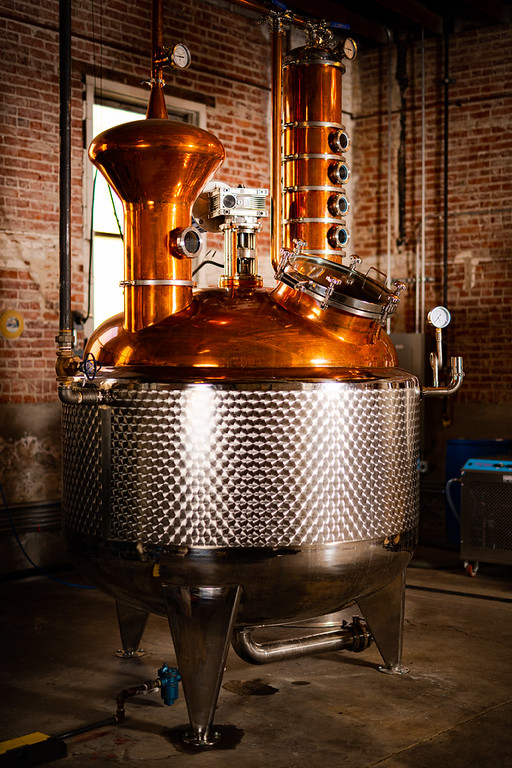 The Two Headed Monster
Barber Lee Spirits specializes in harder to make, unique styles of spirits. Dedicated to traditional methods of distillation, they do everything painstakingly by hand (no computers allowed). They manually turn every dial and taste every cut in the distilling process. 90% of their production is whiskey (Rye & Bourbon), but they give the same care and attention to detail to all of their smaller projects as well (Apple Brandy, Absinthe, Rum, etc.) They are a grain to glass distillery: from the raw ingredient to the finished product, everything is fermented, distilled, aged, and bottled under their own roof.
Their styles of spirits are incredibly difficult to make. The single malt rye in particular is a sticky, thick mess of a mash that they developed their own methods for mashing/ fermenting/ and distilling. All of their equipment is custom built to handle their tough whiskey mashes, including the heart of the distillery: their copper still 'The Two Headed Monster.' This custom piece involves an alembic top on the left side which flows into a 4 plate whiskey column on the right, giving as much copper contact as possible to the alcohol vapor that passes through. The whole point: to make exceptional whiskey.
Feed the Animals!
Tradition and Sustainability are big priorities at Barber Lee Spirits. They use non-gmo and organic grains, herbs, and fruits to craft their expressive spirits. The leather labels on their bottles are super fancy, but it's all scrap leather. All of the spent grains from their whiskey mash (the grains left over after distillation) go to local farmers to feed cows and pigs and any grapeskins or herbs from other projects go to compost.